Playpops WP Plugin: Social Media and Youtube Working to Grow Your Audience
Try Our Demo Below, Click Play and follow the steps below this video
Buy Now in CodeCanyon Marketplace
Attention: WordPress Bloggers
Increase your Social Page "Likes" with the power of YouTube videos. Use any YouTube video to capture "Likes" with this, 2 minutes installation, plugin. Use any YouTube video to capture "Likes" and re-target them within the familiar social environment.
Buy Now in CodeCanyon Marketplace
Attention: WordPress Bloggers
Increase your Social Page "Likes" with the power of YouTube videos. Use any YouTube video to capture "Likes" with this, 2 minutes installation, plugin. Use any YouTube video to capture "Likes" and re-target them within the familiar social environment.
The demo plugin is using following settings (these can be changed);
Facebook Page URL = http://facebook.com/areyoupop
Custom Header Color = #6495ED
Custom Header = Like Us in Facebook to Stay in Touch with Our Latest Update
Custom Skip Massage = Skip this Step and Continue Watching
Pop Transparency = 0.7 opacity
Trigger Length = 50% of total video length (pop up triggers after 50% of video has played and if the user clicks on pause)
Most Potential Subscribers Will Share Video!!
Online video has impacted the web ever since YouTube was invented. It has had an amazing growth shown by the latest YouTube stats;
3 billion hours of video are watched each month.
39 countries, and 54 languages.
A view count of 1 trillion in 2011, or 140 views for every person on Earth.
What if you could combine 3 of the most popular websites in the world to attract and increase your facebook page likes dramatically?
Social PlayPops for WordPress is your Solution
Use the power of Youtube and your WordPress blog to get more Facebook Likes to your fb page. This plugin adds a popup box to your embedded YouTube videos in your wordpress posts asking your readers to take action and join your engaging facebook page or share the video the just watch.
Two Engaging Options
Facebook Page Like
Facebook Share This Video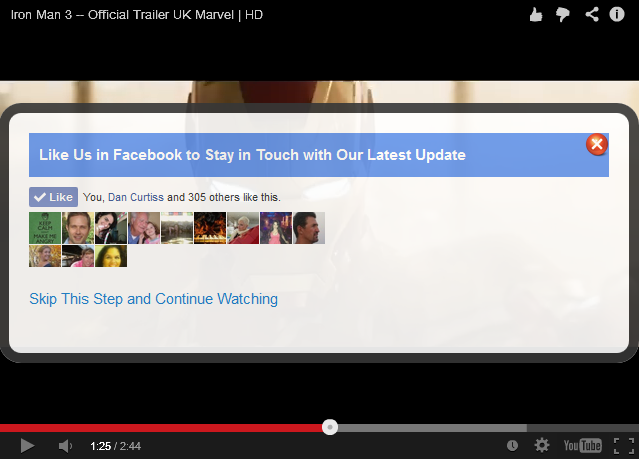 Product Description
Are you struggling trying to grow your Facebook page audience? You post in your Facebook page periodically but can't get more people to "Like" your page. If you are struggling with this task then you should use the power of YouTube videos in your blog to increase your Facebook audience. Most people visit your website but won't necessarily join your email list out of fear of being spammed. A safer and more personal way to stay in touch with your content is by liking your Facebook page. Unfortunately, most people don't look for your Facebook icon in your website or feel compelled to become friends in Facebook just because you wrote a great blog post. Now, with PlayPops for WordPress, you can ask them to like your page when they are visually engaged. Re-target your Promotions and Products Capture, re-target, promote and sell to your always growing audience and fans. This plugin shows a popup box in front of your already engaging YouTube video asking readers to join your Facebook page whenever they pause the video. Once the user has joined your Facebook Page then you can re-target them with promotions to your products or new blog posts or articles. The perfect opportunity to make a "call to action" (ex. Like us Now) is when your users are iterating (play, pause) with your video. Show them social proof that others have joined. Take Advantage of Viral Effect Combine the virality power of YouTube with the power of Facebook to grow your audience with the help of Facebook's 900 million plus users with this Youtube/Facebook traffic plugin. Social PlayPops© for WordPress is a 'popup' that allows you to acquire more users to your facebook page with the help of YouTube Videos.
Benefits
This plugin script should be able to do the following;
Determine the length of any YouTube Video
Calculate the length of the video at; 25%, 50%, 75% of the total length
Inside the script there should be a variable named; $TriggerLength which will have one of the following values assigned; 25, 50 or 75. This values correspond to the percent length of the video mentioned in step 2
Once the video is played the script should look for the $TriggerLength value. After the video has passed that length it should activate a trigger event. I will tell you what the event is in the next step. The event will only get triggered if the user pauses the video or when the video reaches the end.
The event is a pop over (not a pop up) that will go on top of the Youtube video.
Features
Setup
Custom Options – Set options right from your WordPress admin panel!
Quick Setup – Set-up takes less than 2 minutes!
Custom Colors – Supports Facebook's Showfaces and Color Scheme options!
Use a URL of your choice, or enter a Facebook Page URL to have people becomes fans of your Facebook Page!
Functional
Works with Any YouTube Video – Can be used in your Pre-existing videos or other videos
Increase Virality – Works on all sites and big and small Viral
Get More Likes – Facebook styled pop-up is proven to induce more 'Like' clicks!
Set options right from your WordPress admin panel!
Easy popup formatting with built in WordPress post editor for popup message!
FB PlayPops remembers users who already 'Liked' the page
Pop up
Custom CTA – change Call to Action to find what CTA converts better
Custom headline – Change the headline of the popup window to fit your message
Close button
Works with Youtube Videos that can be embedded in your wordpress blog
Supports Facebook's Showfaces and Color Scheme options!
Installation
Step by Step Guide to Install a WordPress Plugin for Beginners This is a step by step, easy to follow, guide to install this WordPress plugin. 1 Download and Place on Your Desktop
Download and save the compressed file (zip file), areyoupop-playpops.zip, in your computer's desktop
2 Upload plugin
Upload areyoupop-playpops.zip to your WordPress website
Admin > Plugins > Add New > Install Plugins > Upload
3 Activate Plugin
Click on the icon and find the .
Click FREE to install. The app is now live on your site!
4 Setup
Click the badge to return to your apps
Click on the icon and enter your Twitter username
5 Insert a Youtube Video
6 Setup Video Attributes
7 Share & Grow
Your visitors can now highlight the best parts of your content
Encourages sharing and you get a ton of more free visitors
FAQ
Q: How to Embed a Youtube Video in Your Website?
A: Embedding a Youtube Video in your site is very easy. Youtube has put together a very easy to digest tutorial on how to add Youtube videos to your posts or pages. Read their Support page here. Please, notice Youtube's embedding video in your site please Best practice:
"IFrame embeds are the recommended method for embedding a YouTube player because the IFrame will select the appropriate player based on the client's capabilities and available YouTube file formats".
Easiest to Use WordPress Plugin if you are a;
Bloggers
Digital Marketers
Business Owners
Build an audience the easiest way;
Attract an audience
Build a Facebook following and
Generate revenue with your own or someone else's Youtube video
Tags
facebook, plugin, popups, wordpress, youtube
QR Code
Updates
2.0.1 [05/20/2015] – [1] Youtube API update to v3, [2] Responsive design improvements, [3] iFrame api integration, [4] New share buttons to other social sites. All the code was rewritten into a more structured plugin
1.5.5 [01/26/2015] – Features a new option when "Share" is chosen as popup type. User can choose to share the video embedded in the page/post or share the page/post when the video is embedded
1.0.0 [2/4/2014] – Release of the first version of Facebook PausePops for WordPress